9th "PURE COUNTRY" FESTIVAL - AUGUST 10 - 12, 2018 !!!

MICHAEL PETERSON INVITES TO "PURE COUNTRY"!

"PURE COUNTRY" 2018 - OUR ARTISTS

With the support of countrymusic.pl forum, our long time media partner, we begin the presentation of the Artists of this year's "Pure Country" Festival.

In the newly created section ARTISTS, you can get to know our performers of this year's festival, and also take a look into our artistic chronicle and recall memories from concerts of previous editions of the festival.

Breaking news! One of the biggest hits of our headliner MICHAEL PETERSON, the song "Drink, Swear, Steal & Lie", which became country music standard, reached # 3 on Country Bilboard and had over 3 millions airplays in 1997, still enjoys constant popularity and for several weeks remains at # 1 on the European HOT DISC CHART.

Congratulations to the Artist and we can't wait to hear "Drink, Swear, Steal & Lie" live in Wolsztyn!
Let's watch and listen to this hit, performed live on stage of "Raiding The Country Vault" in Branson, MO.
(the video will open in a new tab after clicking the picture).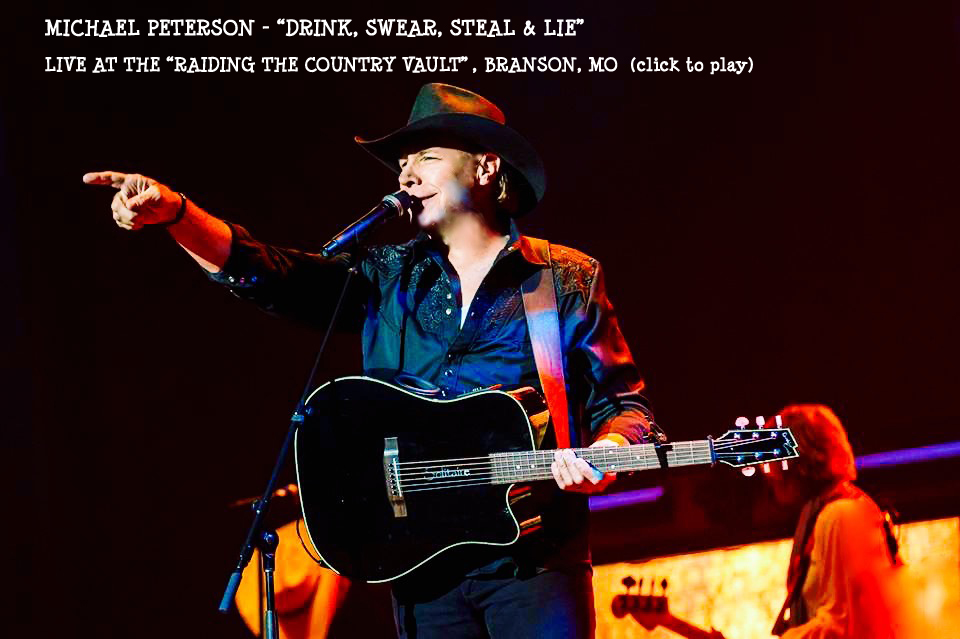 Wolsztyn, May 2018

"PURE COUNTRY" 2018 – THE PROGRAM
We have the pleasure to inform you that the program of this year's festival IS ALREADY THERE!!!
On Friday, August 10th at 7 p.m. we kick off with the concert titled "PLATFORM WOLSZTYN". STREFA COUNTRY will do the line dance show, followed by the country dance workshops for you and the dance contest with attractive prizes.Polish country band ELECTRIC ROOSTERS will provide the warm-up music to listen and dance to. Later at night you'll dance your legs off to the sounds of the infallible ALABAMA BAND.
Concession stands with food, beverages, souvenirs and stylish garments will open in the vicinity of the stage.

And from Saturday afternoon on the City Park on the bank of Wolsztyn Lake will be taken over by your favorite artists from Europe and U.S.A.:
Thanks to cooperation with "Pickin' & Slidin' Prod" we're happy to announce, that country music star MICHAEL PETERSON will be the headliner of this year's edition and performs in Poland exclusively at the "Pure Country" Festival. A million selling, Grammy nominated, country music star whose songs have hit #1 on the charts five times including: the fourth most popular Country wedding song of all time "From Here To Eternity and the iconic "Drink Swear Steal & Lie." Michael Peterson is leading an All-Star cast as the Musical Director for the #1 rated concert experience in Branson "RAIDING THE COUNTRY VAULT."

MICHAEL PETERSON will appear in Wolsztyn backed by the French band, MR JAY'S BAND, lead by muulti-instrumentalist, one of the best country music guitar player in Europe, singer-songwriter - MR. JAY. He doubles his show-biz activities by running production agency "Pickin' & Slidin' Prod" and co-producing Santa Susana Country Music Festival in Spain. MR JAY'S BAND cooperates with US country music stars during their European tours (Darryl Worley, Buddy Jewell, Michael Peterson). In Wolsztyn they will also do the show in their own right.

Next highlights are two 40th Anniversary Shows of European country giants. They are respectively:

"40 YEARS OF DREAMS & COUNTROVERSY" - that's the title of the show and the entire Anniversary Year of Polish Country Music Legend and Artistic Director of the "Pure Country" Festival, MICHAEL LONSTAR. An Artist and his band and special Guests will take us for journey through 40 years of his hits.

Everybody's darling, fantastic performer and world-famous Norwegian country music star, ARLY KARLSEN will also celebrate his Anniversary of "40 YEARS ON THE ROAD" in Wolsztyn, backed by his sons and Polish multi-awarded guitar picker : Grzegorz Kopka.

And, of course, representatives of Poland: traditionally audience favorite HONKY TONK BROTHERS, festival will end up with the music of Band Of The Year 2017 - COLORADO BAND, and on Saturday we'll meet a new stylish band on the rise - GOOD TIME.

ANDRZEJ TROJAK COUNTRY BAND, a charismatic ex-leader of Grupa Furmana with his new solo project and musicians, KATHY SIMON BAND, young and extremely talented bluegrass lady singer-songwriter and TEREN C, Polish country-folk group, will perform on Wolsztyn's stage for the first time.

STREFA COUNTRY, currenty the best dance group in Poland, will embellish the festival stage visually.
Click HERE to see detailed program or download the flyer.


Dear fans! Wolsztyn hotels are running short of rooms. Do not put off your plans for that August weekend. Make reservations now! And… see y'all in Wolsztyn!
Waldemar Ligma & Magdalena "Wilczyca" Łuszczyńska
Wolsztyn, April/May, 2018